Calling China "the most severe counter-intelligence threat facing our country today", a senior FBI official told US lawmakers on Wednesday that the American government, along with the business and academic communities, must adopt a more integrated approach to Beijing's commercial espionage efforts.
"Make no mistake," Bill Priestap, the bureau's assistant director of counter-intelligence, said at a Senate Judiciary Committee hearing in Washington. "The Chinese government is proposing itself as an alternative model for the world, one without a democratic system of government, and it is seeking to undermine the free and open rules-based order we helped establish following world war two."
Priestap, who will retire at the end of the year, cautioned that the US was not doing enough to coordinate its response to Chinese espionage.
"There are pockets of great understanding of the threat we're facing and effective responses, but in my opinion we've got to knit that together better," he said.
Warning against what he called "ad hoc responses", he said: "We need more people in government, more people in business, more people in academia pulling in the same direction to combat this threat effectively."
Priestap, who had a role overseeing investigations into Russian interference in the 2016 presidential election, appeared alongside representatives from the Department of Homeland Security and the Department of Justice.
Issuing similar warnings, committee chairman Chuck Grassley, Republican of Iowa, said in opening remarks that "the media hysteria over all things Russia" had distracted attention from "a greater, more existential threat: China's efforts to overtake the United States as the world's pre-eminent superpower in all phases of society".

Senator Dianne Feinstein, the committee's senior Democrat, recalled that as mayor of San Francisco in 1979 she had travelled to China to establish sister-city relations with Shanghai, and that she had been "very proud of China's economic and technological development".The Chinese government is proposing itself as an alternative model for the world BILL PRIESTAP, SENIOR FBI OFFICIAL
But, she said, its cyber espionage and theft of US technology had done "enormous damage between a relationship that I had hoped way back in the 1970s was really going to change that big Pacific Ocean into a small river of friendship, goods, services and interchanges".
John Demers, assistant attorney general in the Justice Department's national security division, said that by stealing trade secrets through computer intrusions and the co-opting of company insiders, China had "turned the tradecraft of its intelligence services against American companies".
Between 2011 and 2018, Demers said, more than 90 per cent of his department's cases alleging "economic espionage on behalf of a state" involved China. Among such cases are the recent prosecutions of Chinese national Xu Yanjun, suspected of trying to steal trade secrets from US and European aerospace companies, and 10 other Chinese intelligence agents suspected of similar offences.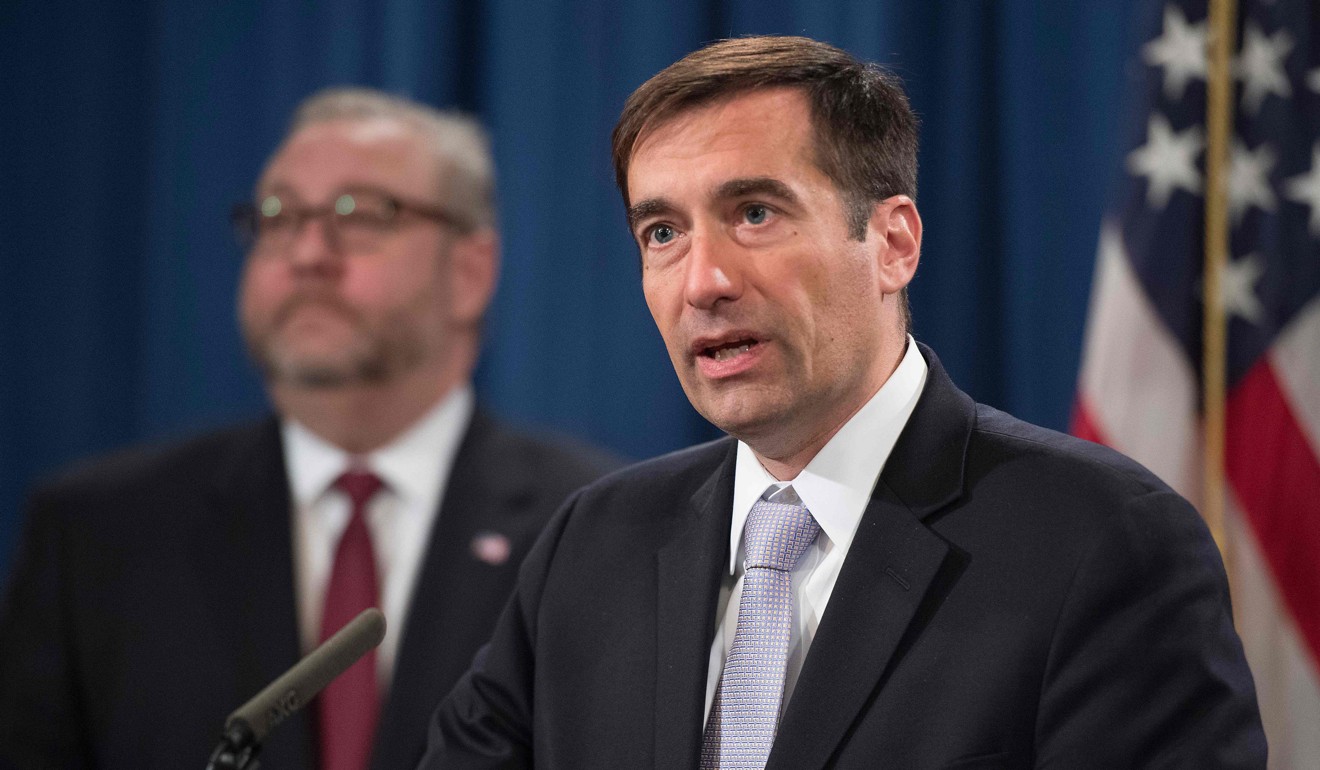 "The playbook is simple," Demers said. "Rob, replicate and replace."
In early November, a week before he lost his job as US attorney general, Jeff Sessions announced that the Justice Department was launching a "China initiative", led by Demers, to combat economic espionage orchestrated by Beijing. Among the US attorneys serving in that initiative is Richard Donoghue, the lead prosecutor in the US case against Huawei's chief financial officer, Sabrina Meng Wanzhou.
Additionally, the US is preparing indictments against hackers suspected of trying to use large US companies' internet providers to access corporate clients' data, according to The Wall Street Journal.
Also looming over Wednesday's hearing were reports that a breach of around 500 million Marriott customers' data had been traced to Chinese hackers, and the case of Huawei's Meng, who was freed on bail on Tuesday in Vancouver pending a hearing on her extradition to the US, which Washington has requested.
US President Donald Trump said on Tuesday that he would consider getting involved in the case of Meng, who is accused of financial fraud while skirting US sanctions on sales to Iran, if it would help in trade talks with Beijing.
His remarks were bolstered by Secretary of State Mike Pompeo, who said on Fox and Friends on Wednesday that trade was a component of the administration's efforts to push back against Chinese threats.
"Any time there's a law enforcement engagement, we need to make sure we take foreign policy considerations into effect," Pompeo said. "It's totally appropriate to do so."
Senator Richard Blumenthal, Democrat of Connecticut and a Judiciary Committee member, said he found it "extremely disturbing" that Trump might "intervene to block action by the Department of Justice", and he asked Demers about the "dangerous message" such remarks could send to the law enforcement community.
Demers declined to comment on pending cases, but said: "What we do at the Justice Department is law enforcement. We don't do trade. We follow the facts and we vindicate violations of US law."
After Blumenthal's question, Priestap said: "I want you to know from the FBI's end, we're going to continue to do our job."