For years, Michael Cohen was not so much Donald Trump's employee as his understudy.
Trump was the real estate titan; Cohen owned a few brick walkups. Trump put his name on buildings; Cohen bought condos in those buildings. Trump wore Brioni suits; Cohen sported Isaia. Trump said "bigly", Cohen said "big time".
But Cohen's flattery of his boss went beyond mere imitation. According to multiple people who observed the relationship firsthand, Cohen craved Trump's approval to an almost filial degree.
"Boss, I miss you so much," Cohen reportedly told Trump in a phone call after the president moved into the White House, leaving Cohen, then his personal lawyer and a former vice-president in the Trump Organization, back in New York.
Snug at it once was, however, the relationship was headed for a catastrophic rupture.
External factors would be in part to blame. Trump's explosive rise to power and a sudden meteor shower of criminal suspicions inevitably tagged Cohen, leaving him facing serious criminal charges of his own.
But there was also a personal intrigue at work, suggesting hidden dimensions to Cohen's character – or at least to his feelings about Trump. It emerged this week that for all his public declarations of loyalty to Trump, Cohen had a secret – an insurance policy, perhaps – in the form of an iPhone in his pocket, set to record.
Investigators have seized as many as 100 audio files from Cohen, the Washington Post reported, including one released by Cohen's own lawyer this week in which Trump can be heard discussing a cash payment apparently connected with a Playboy model's story about an affair with Trump, which he denies.
Cohen is reportedly prepared to tell prosecutors about other stunning scenes. According to Cohen, Trump personally approved a June 2016 meeting at Trump Tower between campaign officials and Russian operatives, multiple TV networks reported Thursday night. Trump previously said he first found out about the meeting a year after it happened.
If Cohen can reach a deal with prosecutors to provide more fly-on-the-wall testimony of moments like that, special counsel Robert Mueller's team of investigators could gain a valuable new map of the hidden connections criss-crossing Trumpworld.
That prospect has clearly rattled Trump, who attacked his former aide on Friday. "Sounds to me like someone is trying to make up stories in order to get himself out of an unrelated jam," the president wrote on Twitter.
'The human cost is incredible'
How dangerous is Cohen for Trump? Apart from what he might be able to tell Mueller, the former aide could provide evidence of alleged elections law violations by the Trump campaign, legal analysts say. Or Cohen could damage Trump politically, exploding the president's credibility – what remains of it – in a way that would change the basic picture of the man and his leadership.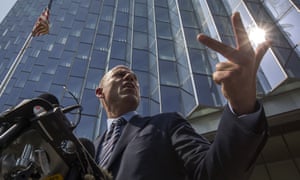 Or Cohen might unveil something truly shocking. Michael Avenatti, the ubiquitous lawyer for pornographic actor Stormy Daniels, announced on Thursday that "Donald Trump conspired with Michael Cohen to pay off multiple other women prior to election day in 2016" and "they were also concerned about a pregnancy". Avenatti later tweeted that he was representing "three additional women. All paid hush money through various means."
Breaking: Donald Trump conspired with Michael Cohen to pay off multiple other women prior to Election Day in 2016. They were also concerned about a pregnancy. Cohen has evidence and info in his possession and it must be released to the public. Now! #Basta

— Michael Avenatti (@MichaelAvenatti) July 26, 2018
Three additional women. All paid hush money through various means. Time for Michael Cohen and Donald Trump to come 100 percent clean with the American people. All the documents, all the tapes, NOW. No more lies or lip service. #Basta

— Michael Avenatti (@MichaelAvenatti) July 27, 2018
Michael Caputo, a former senior adviser on the Trump campaign, said the Avenatti accusations did not justify a reply. Trump has denied alleged relationships with Daniels and the Playboy model, Karen McDougal.
Mueller's investigation of the campaigns' ties to Russia, Caputo said, was "first and foremost destroying the strongest relationships" and that Cohen and Trump were Exhibit A.
"There is no relationship that's safe in this investigation," said Caputo. "Because here's the thing. They don't have evidence of Russian collusion, but they believe that it exists. They don't know what it is that is there, but to prove that it exists they have to blow up the relationships. The human cost is incredible."
Mueller has indicted 31 individuals, including 12 Russian intelligence agents, and three former Trump aides have reached plea deals with prosecutors. A fourth, former campaign chairman Paul Manafort, awaits trial on multiple federal felony charges.
While Cohen is not thought yet to have struck a deal with prosecutors trailing Trump, the president has accused Cohen of violating his trust, tweeting this week: "What kind of a lawyer would tape a client? So Sad!"
What kind of a lawyer would tape a client? So sad! Is this a first, never heard of it before? Why was the tape so abruptly terminated (cut) while I was presumably saying positive things? I hear there are other clients and many reporters that are taped – can this be so? Too bad!

— Donald J. Trump (@realDonaldTrump) July 25, 2018
Cohen has fallen into a defensive posture, vowing to protect his family and casting himself as a servant of the truth, above any man.
Sam Nunberg, a political consultant who worked for Trump for years, said the fatal cleavage in the relationship came when Trump acted on son-in-law Jared Kushner's advice not to bring Cohen to Washington.
"I would say in defense of Michael, this whole thing is a tragedy because Trump should have just given him a job at the White House," Nunberg said. "Michael was extremely loyal to the president. But in the infinite wisdom of Trump's wonderful son-in-law, that treasure, Jared Kushner, advising him not to have Michael get a job", Cohen was sidelined.
"And I mean that very facetiously," Nunberg said of his admiring words for Kushner.
It appears that the nasty fight between Cohen and Trump is about to get ugly, with Trump's minions in the conservative media having branded Cohen a "rat". Not so long ago, that would have been the ultimate insult for a man who styled himself as the ultimate loyalist to a boss he seemed to revere.
"I always saw Michael as fighting for the boss's agenda every breath he took," Caputo said. "But when I first heard that he might have been making recordings, I wasn't surprised.
"Not because I think that Michael is the kind of person to do that. It's just that people do strange and terrible things."